Meet the Musicians
Violin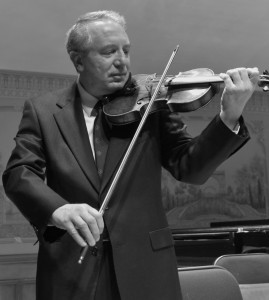 Vladimir Deninzon
Violin
Orchestra member since 1979
Hometown: Tashkent, USSR
Education: Vladimir studied at a special music school for gifted children which was part of the Leningrad Conservatory from 1957-1968. He then attended the Leningrad Conservadory from 1968-1973 where he earned a diploma with honors.
Studied with: Vladimir Orcharek, Tamara Bereznikova, Mark Komissarov
Instrument: Vladimir plays a violin made by Kurt Widenhouse.
About Vladimir:
Vladimir's journey to Cleveland was a remarkable one. After studying in the USSR at the Leningrad Conservatory, and winning numerous prizes at competitions, Vladimir immigrated to the United States in the late 70's. "As a new immigrant into the US, I had no choice but to live in a one bedroom apartment with six people - and had to practice in the bathroom. In the USSR, auditions consist of solo programs and sight reading; no preparation of orchestral repertoire is required. So, I had to learn everything (all of the standard orchestral repertoire) during my first three months in the US. During my audition in Cleveland, Bernie Goldschmidt (a former TCO violinist and the audition proctor for that audition) who was putting music on the stand asked me if I knew the Scherzo from Schumann's Symphony No. 2. I said that I knew it by heart. He closed the music and I played it by memory." His wife, Lyubov is a pianist, and their son, Joseph, is a classical, jazz and rock violinist, singer and composer. Their daughters, Claire and Sonia, are a graphic designer and a business/marketing specialist, respectively. His most memorable concerts with TCO include those in Carnegie Hall and the Musikverein. "These halls, their audiences and history are very inspiring." It is also the people, culture and proximity of nature in and around Cleveland which additionally inspire Vladimir, particularly on his walks, perhaps accompanied by some jazz. Vladimir is a teacher at CIM, and works with violinists aged 6 and up. His other interests include a variety of popular science topics, world history and the history of humanity.