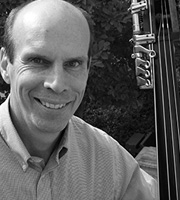 Mark Atherton
Bass
Orchestra member since 1983
Hometown: Schenectady, New York
Education: Boston University
Studied with: David Cobb, Henry Portnoi
Instrument: Mark plays on an Italian bass from the early 1800's.
About Mark:
Mark enjoys golf, cycling and gardening, and is also known to throw a basketball around from time to time. An avid cyclist, he brings a fold-up bicycle on tours and takes in the scenery in his spare time.
When dining in Cleveland, Mark enjoys dinner at L'Albatros, a quick meal at the Peppermint Cafe and a slice at Angelo's Pizza. His most memorable experience  occurred during a curtain call when he received a warm hug from Mitsuko Uchida.