Meet the Musicians
Trumpet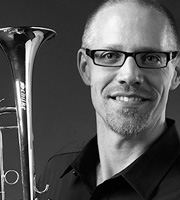 Jack Sutte
Trumpet
Orchestra member since 1999
Hometown: Oconomowoc, Wisconsin (That's a lot of o's!) Where the waters meet
Education: The Curtis Institute of Music, The Juilliard School
Studied with: Dr. Patricia Backhaus, J. Craig Davis, Michael Davison, Frank Kaderbek, Ray Mase, Chris Gekker
Instrument: Jack plays on all kinds of instruments but particularly enjoys Schilke instruments. In the orchestra he plays Bach Bb and C trumpets. He also loves old cornets and baroque trumpets.
About Jack:
Jack is always on the move; whether he's taking part in orchestra committee work or working around his house, you'll rarely catch him sitting still. As an avid athlete he participates in running, cycling and yoga, and during summers at Blossom he can often be seen enjoying a run between rehearsals and concerts.  At home he spends his time on household projects, playing with his children and hanging out with his two dogs, Lilly, a Golden Retriever and Shanti, a Miniature Schnauzer.  Jack and his wife Audra, whom he met on a blind date in downtown Cleveland, love eating at their favorite restaurants, Americano in Bratenahl and Chili Peppers in Euclid.  Jack claims Chili Peppers has the best burrito in Cleveland and it must be true; he and Audra have been eating there once a week for over ten years!  
One detail about Jack that is not readily apparent from his picture is his height.  At 6'4" he towers over most other orchestra members, even ladies in heels.  This does offer some distinct advantages: he can always reach the snacks on the top shelf and poses a formidable opponent in any game of "keep away."  The view from the top is not always so rosy, as Jack once discovered during an audition for a top-tier orchestra.  The screen that had been erected to shield the candidates from the audition committee was shorter than he was.  Unfortunately, this provided a clear view of committee members carelessly coming and going and milling aimlessly about the hall, clearly disinterested in his audition.  Luckily, his Cleveland Orchestra audition experience was very different!  
 Jack is an enthusiastic educator, working with trumpeters of all ages.  He teaches at Baldwin Wallace University and gives master classes throughout the world.
Hear Jack: