Meet the Musicians
Violin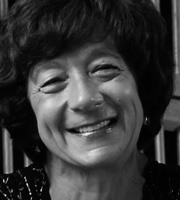 Carolyn Gadiel Warner
Violin
Orchestra member since 1979
Hometown: Winnipeg, Manitoba, Canada
Education: The University of Toronto, The Paris Conservatory
Studied with: Piano with her mother, Pierre Souvairan, Anton Kuerti; violin with Lorand Fenyves, Roland Charmy, Genevieve Joy, Pierre Sancan, Donald Weilerstein
Instrument: Carolyn is a multi-talented musician who plays piano, violin and viola. She plays an 1865 violin by George Panormo from London and a 1984 violin by Mark Pullen.
About Carolyn:
Carolyn says of Cleveland, "It is a great city, home to several world-class institutions, a Great Lake, sometimes competitive although heartreaking sports teams, and above all, a warm hearted, arts-loving community where our family has made life long, cherished friends."  She and her husband, TCO violinist Steve Warner, have a son named Ari who is an artist.  Carolyn dotes on her two bunny rabbits, Alfie, a French Lop, and Simon, a Netherlands Dwarf.  In her spare time she enjoys transcribing music, primarily for her trio with husband, Steve, and saxophonist James Umble, but you'll also find her puttering around in the garden and jogging every day for 45 minutes.  Carolyn shares her most embarrassing onstage story: "My most embarrassing moment in my Cleveland Orchestra history occurred during and evening rehearsal (February, 1980) with Robert Page for a contemporary choral work to be performed that weekend.  I had just been appointed to the keyboard section and was playing the harmonium (a portable, organ-like instrument with a smallish keyboard and a speaker in the front.)  Steve sat directly in front of me and we were holding hands across the harmonium as we were discussing our wedding plans.  Unbeknownst to me I was making quite a racket on the instrument by doing so because I was leaning across several keys but I couldn't hear it since the speakers were in front.  Mr. Page stopped the entire rehearsal and yelled, 'And why is the dang harmonium playing there?' as the whole chorus split their sides laughing as they watched this whole episode unfold.  Needless to say we turned beet red and faced forward very quickly!"  Caroly is on the Conservatory chamber music faculty at CIM and also coaches high school students in chamber music for Cleveland Heights High School.
Find out more about Carolyn at:
Want to hear Carolyn?  Check out her CDs!